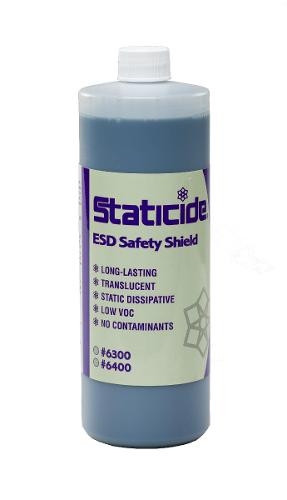 Staticide ESD Safety Shield - 1 Quart
Manufacturer:

ACL Staticide

Model #

6400Q

Pemro #

ACL-1099

$163.00

$138.46

/each
Staticide® 6400 ESD Safety Shield, 1 Quart Bottle

The Staticide® ESD Safety Shield coatings are made of a proprietary blend of conducting polymers which allows the coating to be inherently dissipative regardless of ambient relative humidity. Unlike surfactants, this Pedot formulation provides dependable protection by allowing static to dissipate safely without wearing off or losing resistivity.

The 6400 formula is chemically enhanced to imrove adhesion on "hard-to-stick-to" plastics such as polypropylene. This formulation requires a heat cure at low temperatures.

Features and Benefits:
• Surface resistivity of 10⁵ to 10⁷ ohms/sq.
• Translucent, perfect for viewing ports on machines
• Durable, doesn't chip or peel and is able to withstand normal handling without scratching
• Bonds to a variety of plastics
• No silicone, no chlorides
• Easy to apply

Note: ACL 6400 requires a low temperature heat cure.